😋
Food & Beverage eCommerce Stores
How we have been able to scale food and beverages eCommerce brands using ads, email and SMS. Let us 👉 HELP
Overview
Challenges
Strategies
Execution
Results & Examples
Testimonials
Summary
How Top Growth Marketing partnered with leading brands in the food and baverages industry to successfully leverage an omnichannel approach and increase revenue while reducing CPA and generating consistent ROAS/ROI improvements for food and baverages ecommerce brands in multiple niches. Check out our case study.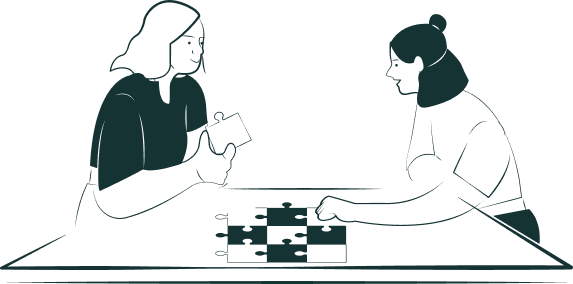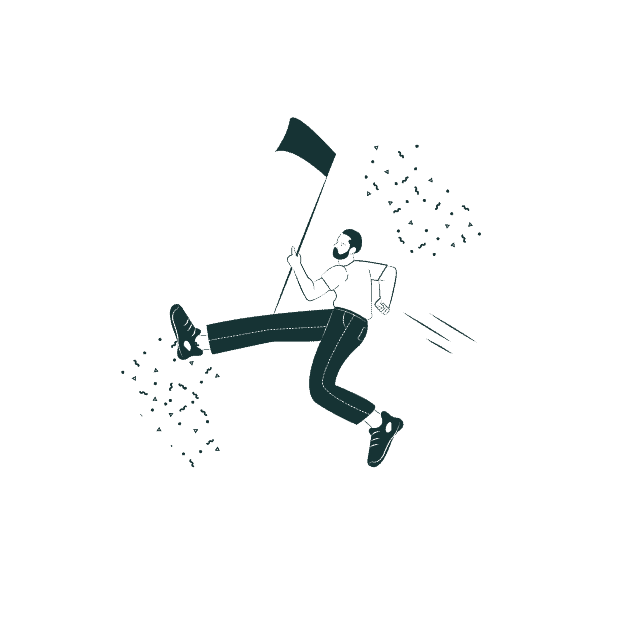 Low ROAS & profits on ads

High CPA

Lack of new customers

Not seeing results from paid advertising

Not generating enough revenue for scalable growth

Low customer LTV

Cost of advertising and CPM too high
Lack of reporting to identify areas of opportunity to scale
The lack of testing
Improvements YoY (2022>2023)
Increase for Return On Ad Spend (ROAS)
Increase in Return on Investment
Below is the range of strategies we used to help grow our partner food and beverages ecommerce brands using ads, email, and SMS. There was no 1 secret strategy, it was a combination of many.
Meta ads
Acquired new customers through Facebook Ads Prospecting campaigns using interest targeting, lookalike audiences and retargeting.
Giveaways & TOF campaigns
Decreased spend using innovative lead generation strategies, attracting a high amount of prospects and then retarget them through paid search, social and email campaigns.
Nurturing prospecting customers through the buying cycle
Leveraged a dynamic mix of targeted content using multichannel lead nurturing tactics to turn prospects into customers.
Influencers and UCG ads
Influenced purchasing decisions to drive conversion rates by establishing authentic social proof using customer-centric content.
Expanded product range
Using data from top-selling products, collections,s and styles to introduce new product drops to generate huge revenue boosts.
Hyper targeted ads
Increased touch points with potential customers to nurture them over social, search and email channels.
Finding a winner audience
Decreased spend using innovative lead generation strategies, attracting a high amount of prospects and then retarget them through paid search, social and email campaigns.
Layered Campaigns
Implemented strategically chosen campaigns across multiple platforms to increase product visibility, and grow reach and frequency of the right messaging to the right audience while utilizing visually interesting and diverse ad creatives.
Creating avatars for better ad copy/creative
Created multiple avatars to better understand the ideal customer and create effective, targeted messaging and creatives.
In depth data analysis
Found new opportunities using data-driven results to better understand who the customer is and how to effectively reach them through highly targeted campaigns.
Unique messaging for each step of the funnel
Segmented audiences to create targeted high-converting ad copy and creative that aligned with brand messaging and campaign objectives through each stage of the customer journey.
Finding the right creative & copy
Leveraged educational content on Youtube and Facebook to demonstrate benefits and features.
Whitelisting & influencer strategy
Targeted specific and lookalike audiences using in-feed and dark posts to drive engagement and create more effective campaigns.
Increasing average order and lifetime value
Increased customer touchpoints across all channels by successfully analyzing customer data to properly segment and target audiences.
Extensive keyword research
Identified valuable keywords to reach target customers and optimize content; increasing SEO and driving new users to the website.
"We achieved regular double-digit ROAS while always remaining in budget. Thoughtful and skillful results."
Ad Types (Creative & Copy) 
A key piece to the marketing funnel is converting ad creative and copy. Below is a range of examples and strategies we used to scale food and beverages ecommerce brands using ads.  
👉 Social ads
Image – used to maximize the placements for remarketing and simple messaging/creative types.
Video – used at the top of the funnel to educate and deliver maximum value. We also use top video content with more data-driven campaign types like Advantage+ etc.
Carousel – used to give browser options and show off the range of products a brand offers.
Stories/reels – used for entertainment to build a a large TOF.
👉 Search ads
Shopping ads – a large portion of DTC budgets are optimized for shopping campaigns to capture people with high intent. Optimization is crucial here for the scaling of eCom brands.
Search ads – we use this campaign type for longtail problem, solution, frustration search terms to start the customer journey.
Display ads – we use this campaign type on target website cluster placements and dynamic retargeting.
Performance max ads – The data driven king of campaigns, it's important to use the correct optimizations, signals and work with agency reps to maximize the output of these campaigns.
YouTube & shorts – We use these these for story telling ads with niche specific channel targeting. Great for education and entertainment.
❄️ Prospecting ads – We focus the ads on aquring new traffic, customer and revenue. This is why we segment our campaigns and change the content and messaging for attracting people at the top of the funnel.
🎯 Remarketing ads – These ad campaigns are focused on converting users that have engaged but not purchased.
💰 Retention ads & emails – These are the campaigns we use to maximize lifetime value of our customer base. Most of this is done using email + SMS but ads are used for those who are not receiving or opening emails.
📸 Whitelisting ads – We amplify the posts with our ad budgets from content creators, customer or influencers that have posted about your brand.
🎰 Gamified giveaways ads – This is a top of the funnel campaign that generates a huge amount of reach, emails, phone numbers and first time user sessions. We also use these ads to drive engagement on our other top converting ads using gamification.
👉 Get in touch to learn about all the other ad types we use to grow food and beverages ecommerce brands.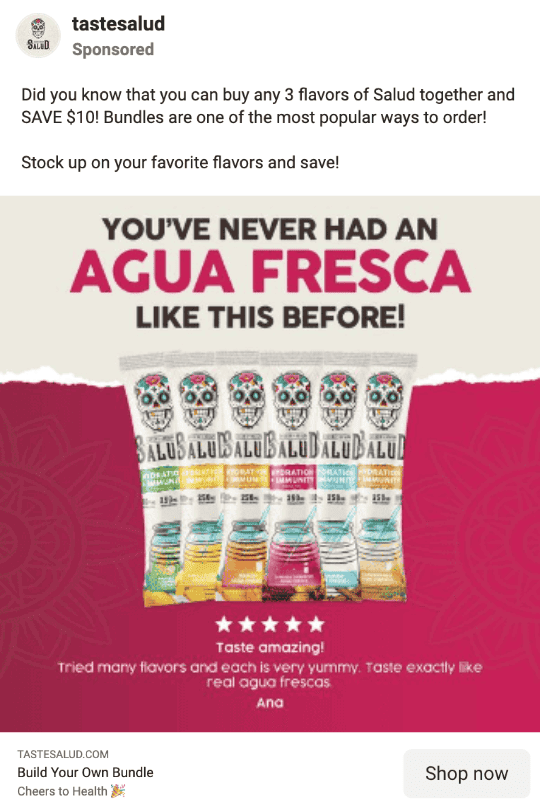 Making offers that add value to the product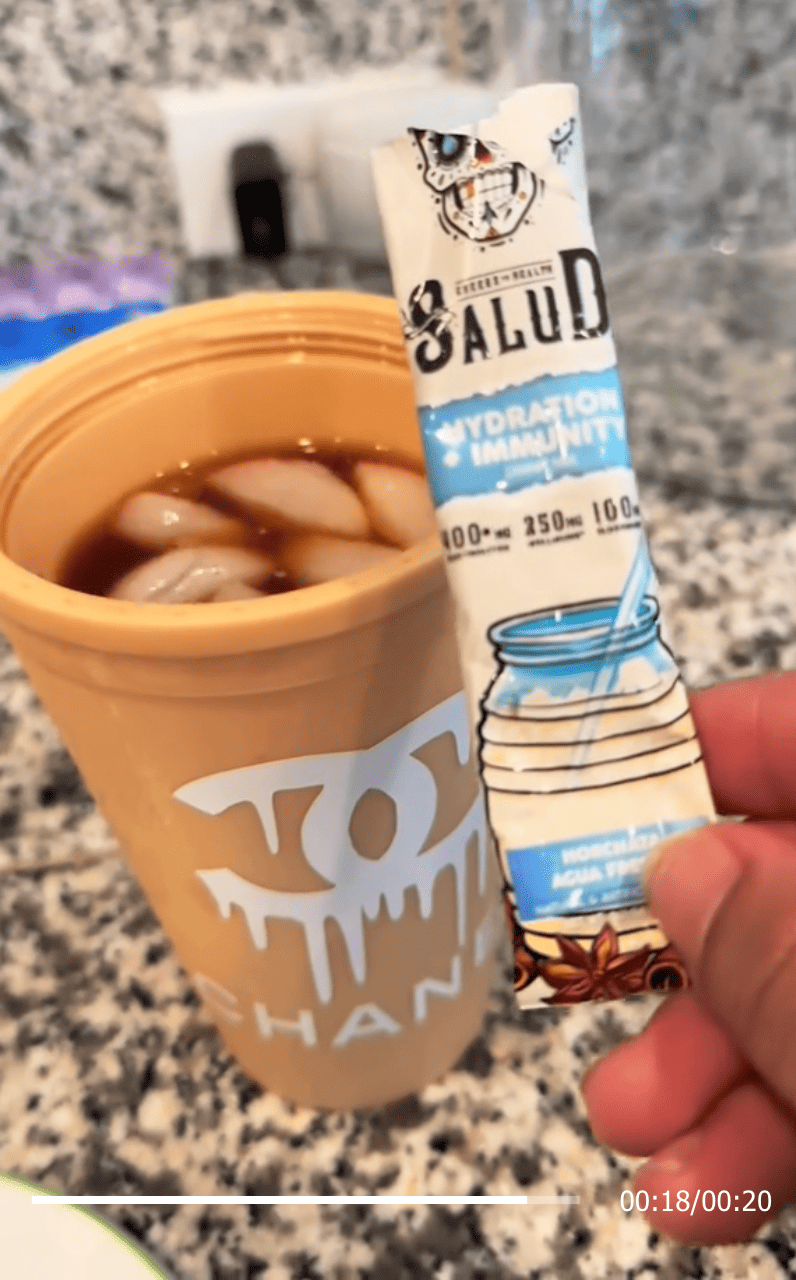 Reviews proposing best ways to consume the product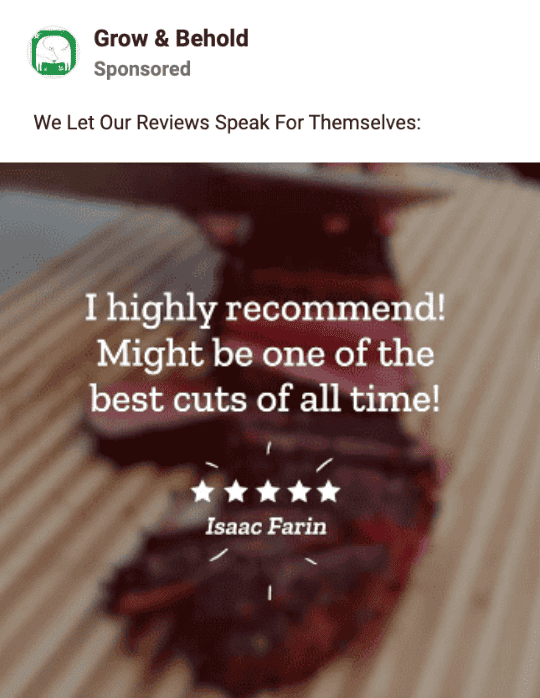 Using strong hooks and social validation to drive down CPC's / CPM's and increase conversions.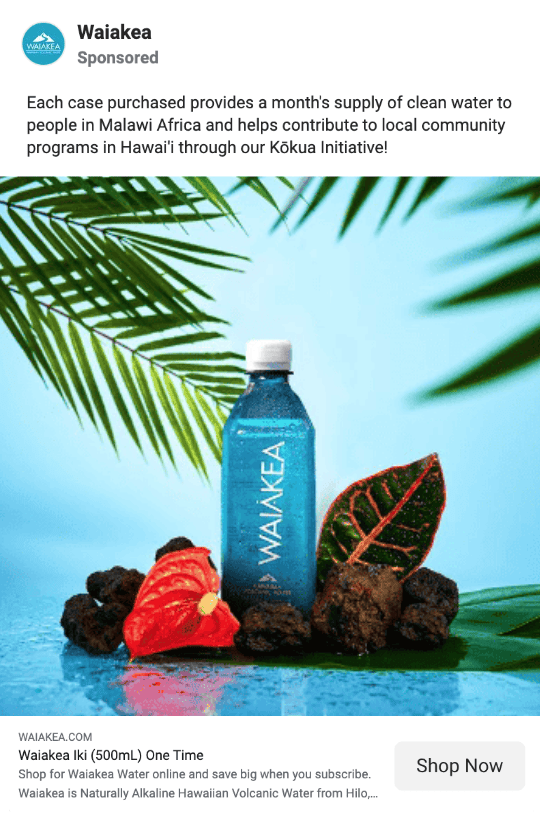 Copy that reveals the main benefits that have a differential in comparison to other brands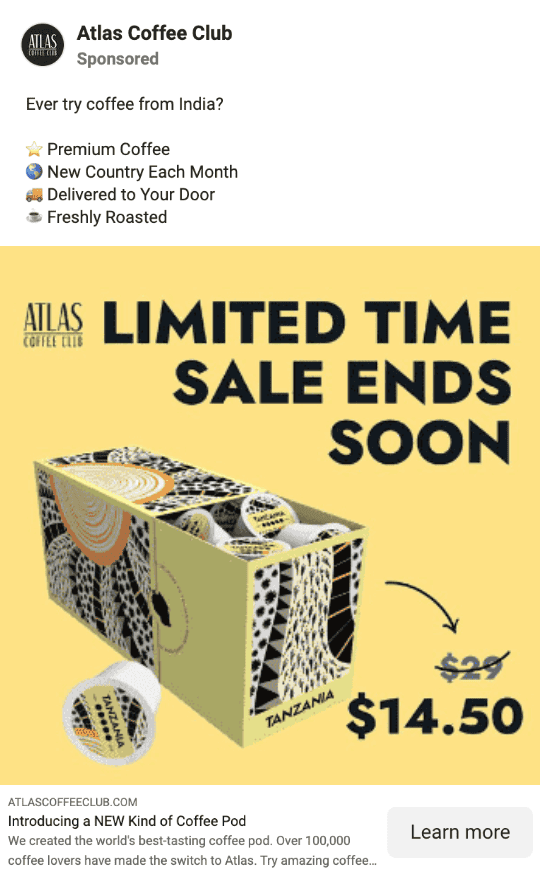 Besides evergreen ads, promotional ads with special offers are part of the strategy
"Our most important result has been our top-line sales, followed by our profitability. Our ROAS has remained pretty consistent between 2.5–3, which is very good for our industry."
Results Generated for food and beverages ecommerce
There's a range of metrics and KPIs we use to track success. Some of our favorite ones are ROAS, ROI, Marketing efficiency, POAS, NC-ROAS, and LTV/CPA ratio.
Below lists out a few wins we've had with our food and beverages ecommerce partners within the first 6 months of partnership, and that helped build up this food & beverages ecommerce case study.
64% increase in ROAS in first 6 months for a Kosher Meat Brand
$25,286 to $142,853

i

ncrease in revenue within the first 6 months with a Coffee Brand

$35,491 to $118,595

increase in net sales over 4 months with a 3+ profitable NC-ROAS for a Chocolate Brand

Our food and beverage brand partners have an averaged a 3+ ROAS at scale ($50k plus ad spend a month) over a 12-month period
👉 Book a call and ask us for more results
Healthy Drink Mix Brand
eCommerce Case Study Results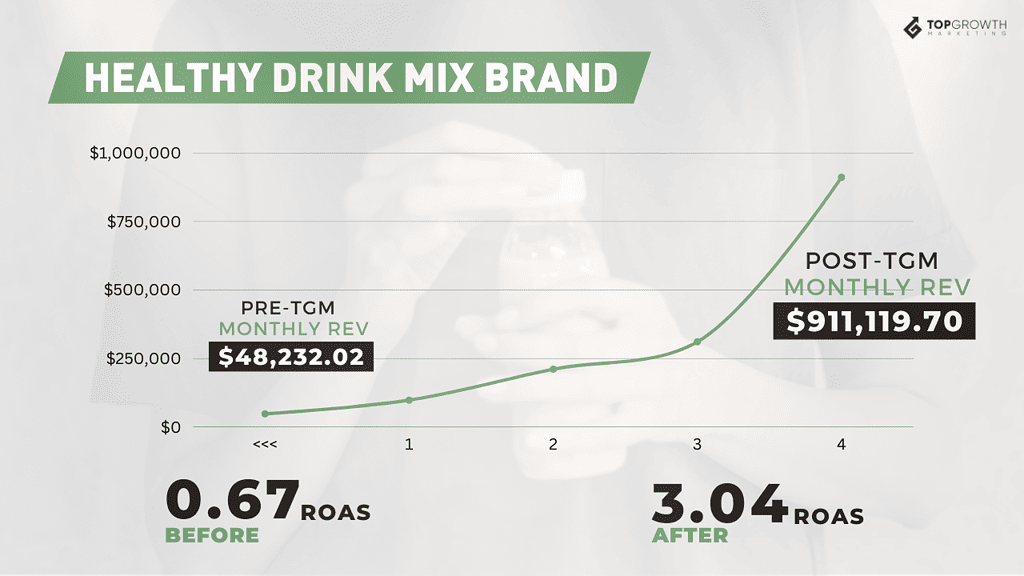 Kosher Meat Brand
eCommerce Case Study Results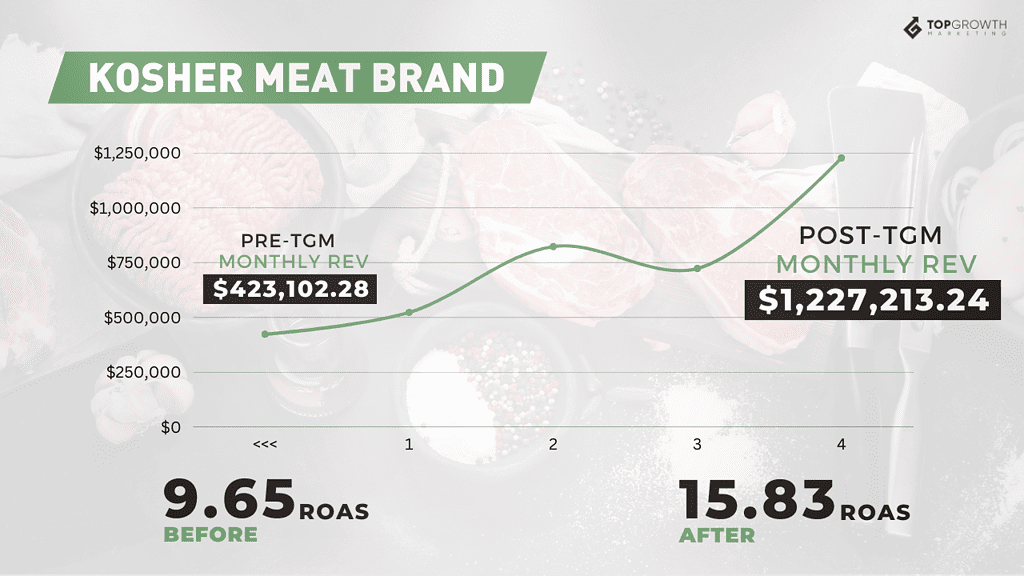 Chocolate Brand
eCommerce Case Study Results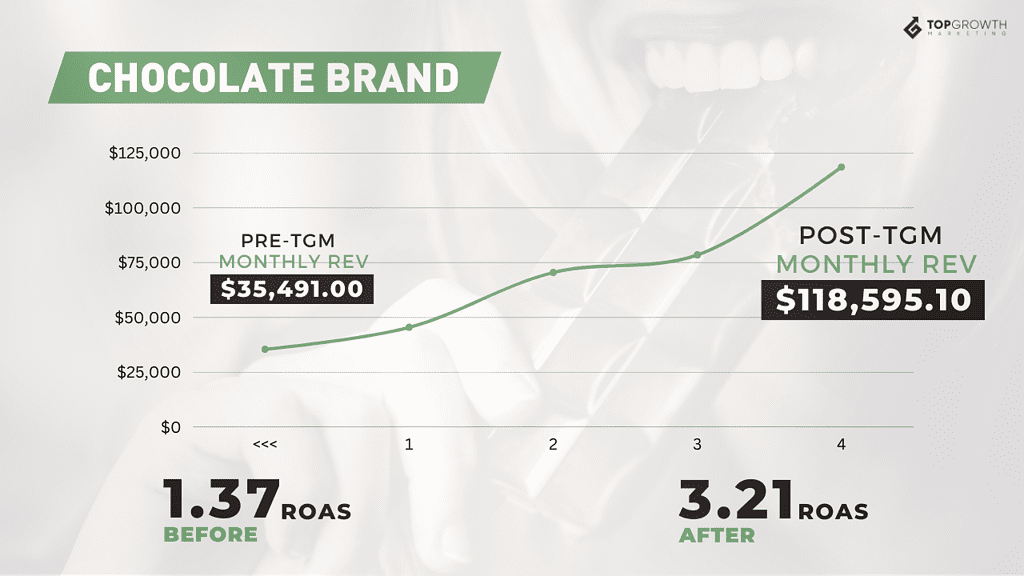 Coffee Brand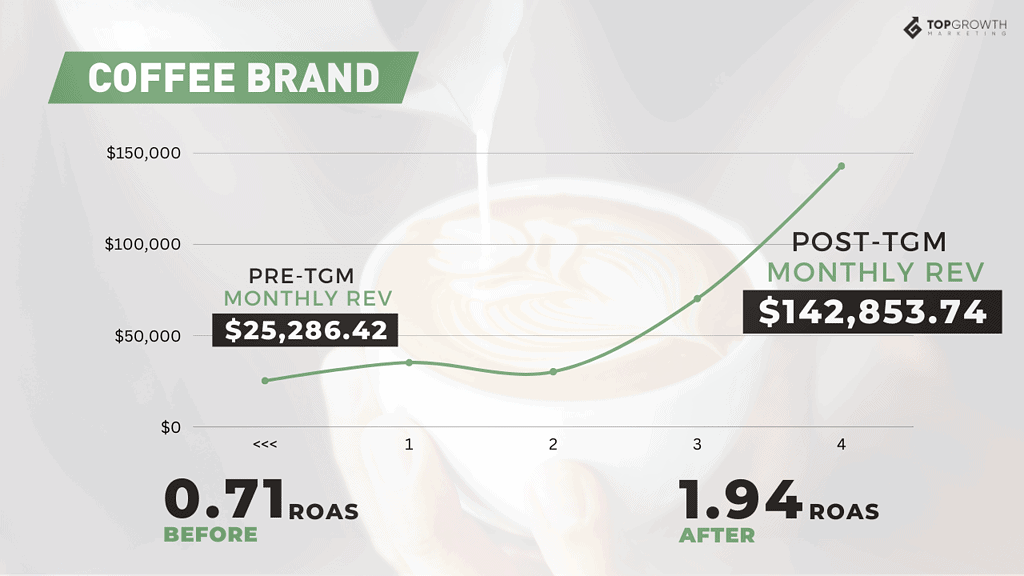 Water Brand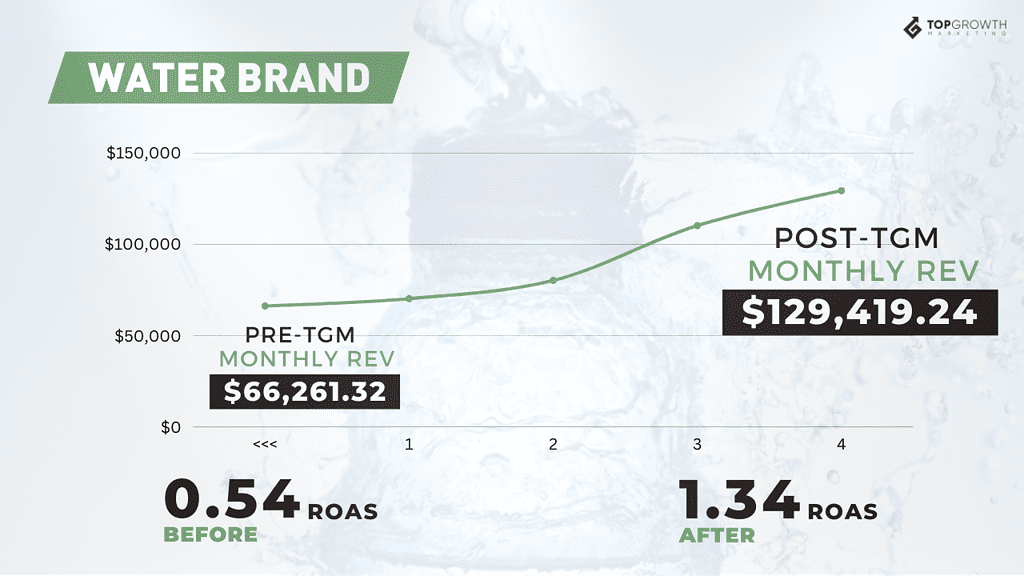 Low Carb Snacks Brand
Keto Diet Brand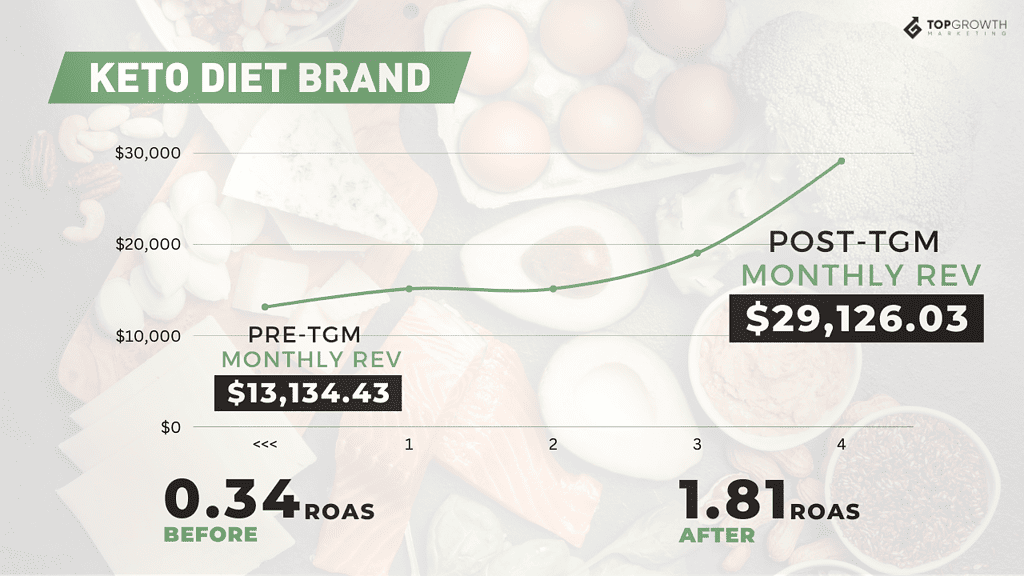 Mushrooms Microdosing Brand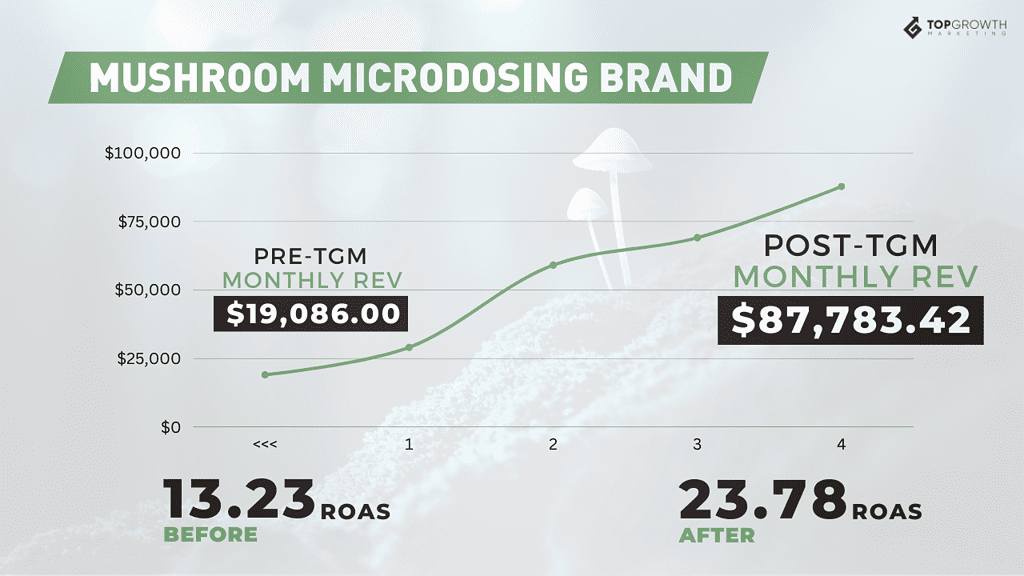 Creative is one of the most powerful levers a brand can pull to improve its results. That's why we have a constant creative creation process with feedback loops. Below is a small list of creative styles we make and test to improve ROAS, CTR, Share ratio, CPC, CPM's, and more.
Product showcase (elevated product shots)

Lifestyle (photoshoots etc with overlays)

Press release (featured in xxx)

Whitelisting (influencers/customers)

Giveaways

Features & benefits (use overlays and callouts)

How to / unboxing etc.. tutorial of the product (how it works in steps)

Testimonials

User-generated content (UGC)

Comparison (us vs. them)

End carts & call to actions

Frames for catalog remarketing ads (DPA's)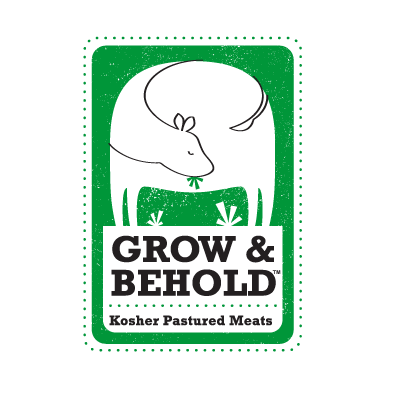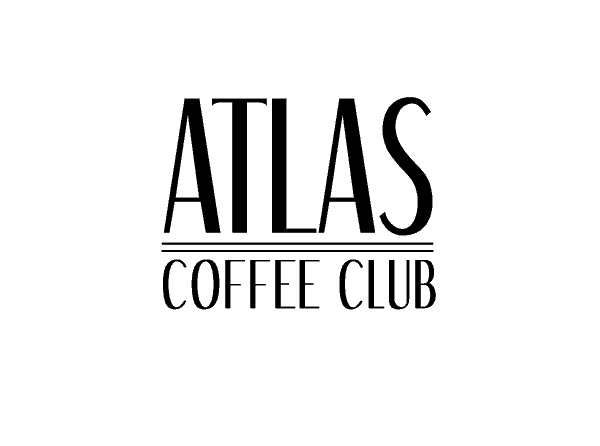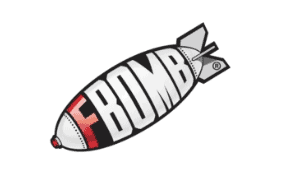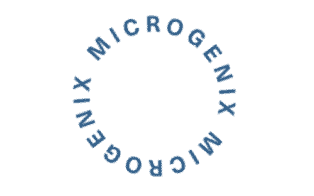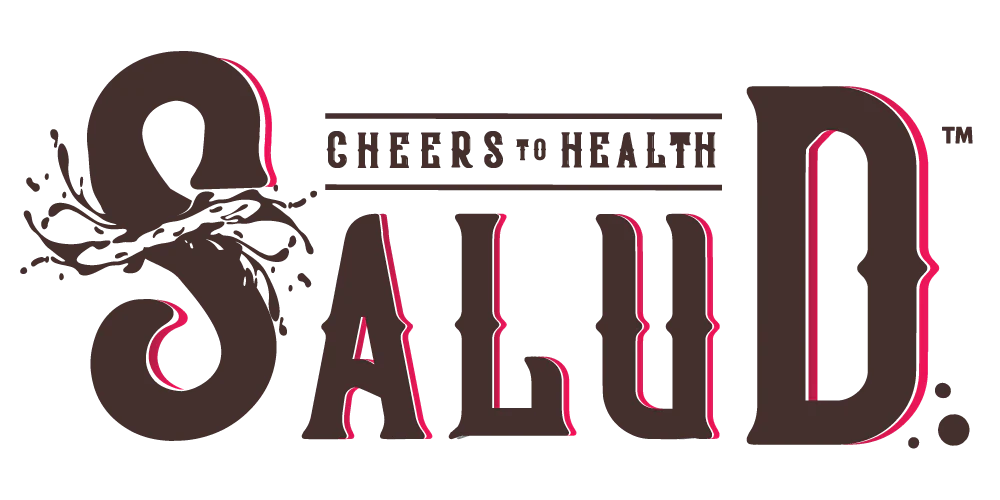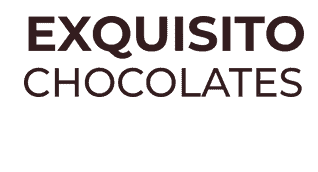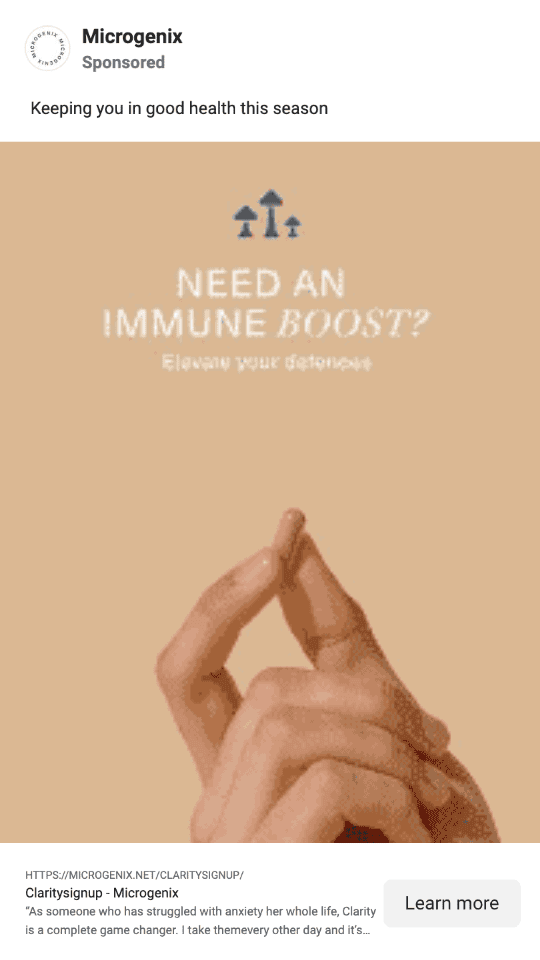 Audience segmentation and targeting (Prospecting, Remarketing & Retention) of ads are make-or-break for profitable campaigns. See some of the targeting strategies we used to scale our food and beverage eCom partners successfully.
Custom audiences from website engagements

Brand social account engagement segments

Whitelisting & their engagement segments

Email/SMS segments

Look-a-like audiences

Geo-Targeting

Keywords cluster ad groups

Single keyword ad groups

RLSA ad groups for search/ shopping

GDN affinity audience targeting

Restructured display remarketing

Data from 3rd party tools
In order to improve a food and beverages store's ROAS, NC-ROAS and new customer revenue volume, offers are a key factor.
Hi makes or breaks the cost of the traffic and requires creativity, testing and close monitoring of key and secondary KPI's.
Here are a few we successfully use to grow food brands or beverages brands.
Select product sales 

New product drops

Limited or scarce product runs 

First purchase offer $ or % off

BOGO's

Bundling

Holiday or seasonal campaigns

Merchant center promotions

Ad extension promotions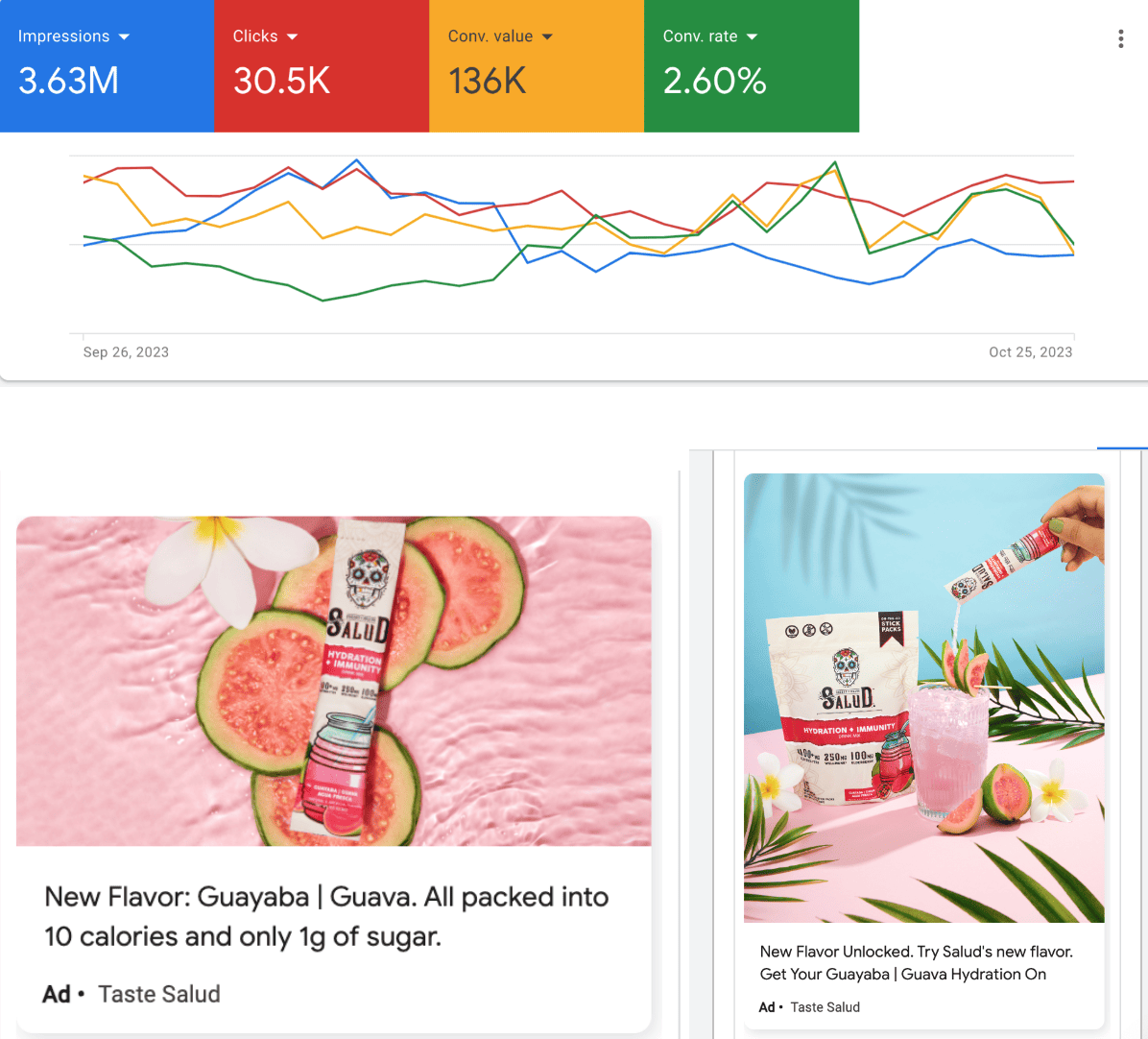 By analyzing historical performance data and industry benchmarks we determined an achievable target, with a ROAS based on campaign performance. The results were a 23% ROAS increase in a YoY comparison (2022-2023)
We have been successfully scaling and growing food and beverages ecommerce brands since 2018.
As these industries continue to expand in innovation, growth is unlimited and customer outreach is more and attainable on the digital landscape.
Get in touch with us, and let's grow your business together.
Social Media Ads

30%

30%

Search / Shopping Ads

20%

20%

Ad Creative & Copy

30%

30%

Email & SMS

20%

20%
Frequently Asked Questions
How much experience do you have?
We have been running social ads for eCom brands since the start of Facebook when CPM's were a wonderful $1-3.
A lot has changed since 2010, our team has grow substantially to cover all ad platforms as well as email making us the dream team for scaling eCommerce apparel brands.
What services do your provide?
Over the years we have spotted a few trends when scaling brands. Mostly the revenue sources are broken down like this 30% Organic, 30% Ads, 30% Email, and 10% random.
We focus on running the best ads and emails for partner brands. The services our team are set up to provide are… strategy, ad media buying across all channels, copywriting, creative design, and email/sms management.
How will my business benefit from partnering with TGM?
We are focused on long-term profitable growth for all of our partner brands. We do this by focusing on a few core KPI's and improving them month over month. 
Some of these core KPI's are ROAS, NC-ROAS, POAS, ROI (Marketing efficiency), New Revenue, and Ad Spend. 
By doing what we do and focusing on these KPI's with our custom reports, your brand will benefit from steady, profitable growth. 
What ad platforms do you specialize in?
We have managed pretty much every ad channel under the sun and currently spend millions a month across our partners.
The main channels with the highest spends are Meta, Google, TikTok, Pinterest, and Microsoft.
How long does it take to launch ads & emails with TGM?
We have a streamlined process for getting started and working with our partners.
The first week is dedicated to creating in-depth customer avatars, which will set the foundation for all the targeting, copy, and creative.
In weeks 2 and 3 we work hard to get your 1st round of ads and emails ready for approval.
By week 4 we can usually have your first round of new ads up and running.
This can change from brand to brand depending on revisions, the complexity of products, etc. But this is a good benchmark to follow.
Join hundreds of brands that propelled their growth using our tried and tested methods.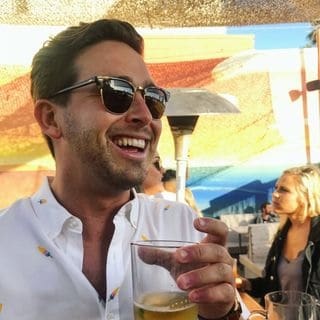 Ryan Rock
Founder, Fat Boy Surf Club
We are an apparel lifestyle brand and we've been working with Top Growth Marketing for 5 months now. They have been a game-changer for our business!
Our biggest issue now is keeping inventory in stock since we are constantly selling out.
TGM helped us achieve our most successful Black Friday/Holiday Season and has helped us maintain growth and consistency in the following months -  when we usually see a sharp decline in sales.
Instead, we have continued to have record months even in January and February.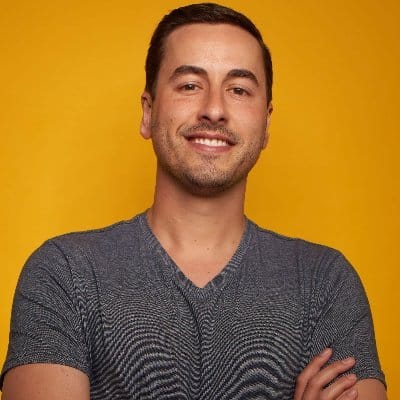 Nick Christensen
Head of Customer Acquisition, AppSumo
We see incredible results from our engagement with Top Growth Marketing.
They secure customers through campaigns that effectively manage our cost-per-conversion requirements. 
Their knowledge of paid media is notable. I'm always impressed by their expertise, and I haven't found anyone else with their level of talent in that industry.
We expanded services since we started with Top Growth Marketing because working with them is great.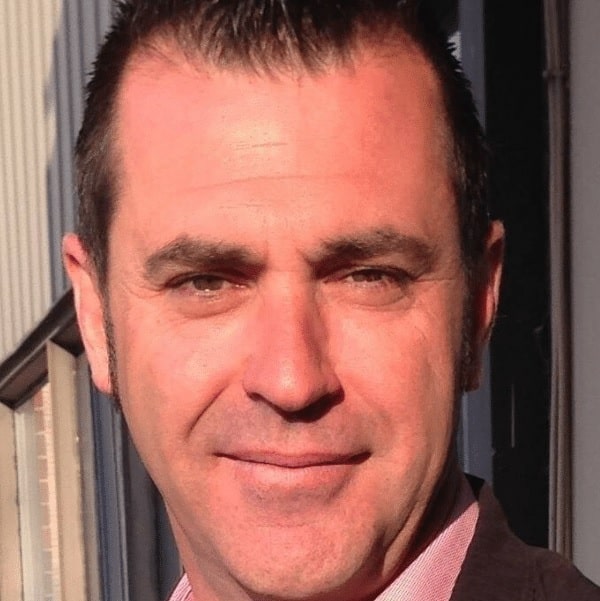 Andrew Shaw
Head of Paid Marketing, 1DS Collective
After 8+ months of service, I am very pleased with TGM as a paid media management company.
Their team was able to help us weather the iOS14 storm on Facebook, keeping the account on positive ROAS.
Where a lot of other advertisers lost money, they kept the account in winning territory.
They are thorough, organized, and consistently deliver top-shelf advice, results, and creative executions. Two big thumbs up!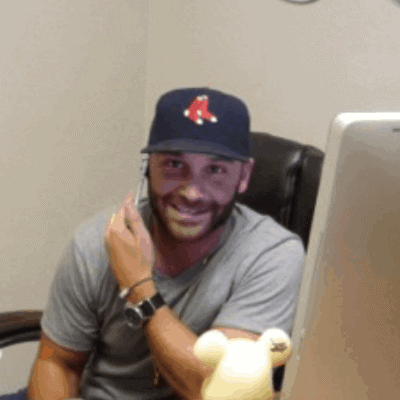 Evan Pinstein
Co-Founder, Beers
We started running ads with Top Growth Marketing and after only 2 months of working with their team, we saw incredible results. 
They dialed in what resonates with our customers around week 5 and by the end of month 2, we saw more sales on our website in 1 month than we saw during the entire year!
TGM is incredibly easy to work with, they respond to questions and concerns immediately and they don't spend money just for the sake of spending.
They're an absolute necessity if you're looking to bring your business to the next level and I can't say enough great things about them.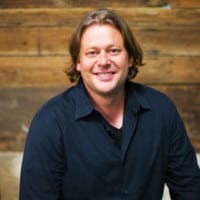 Dave Palmer
Founder & CRO, Yoga Club
Jack (TGM founder) is one of the most driven, genuine, efficient, and dynamic people I've ever had the pleasure of working with.
He was instrumental in growing brands to multimillion-dollar status, all within the tightest performance-driven ROI requirements.
He balanced outward-facing client presentation skills with deep hands-on knowledge on a level I've not seen before.
He is never too busy to answer a question and his positive can-do spirit lifts the room and the team around him. In short, Jack is a super high caliber, high integrity, fun, smart, driven, and effective.
Sophia Lotter
Director of Marketing, Waiakea Water
Being able to trust our partners to do the best job possible makes our lives that much easier.
Jack and Jenn at Top Growth Marketing are experts in what they do and will go above and beyond to create value for their clients.
We've worked with TGM for over 3 years, growing our revenue by 280% while reducing CPAs and CPMs. These guys know what they're doing, hands down.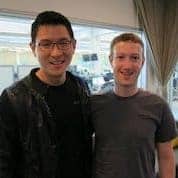 Chris Pan
Founder, MyIntent
It has truly been a gift to have worked with TGM.
1) Truly experts at digital marketing.
2) Understand and care about our needs and goals.
3) Selfless in teaching and empowering us.
4) Has genuinely been a pleasure to work with and be around.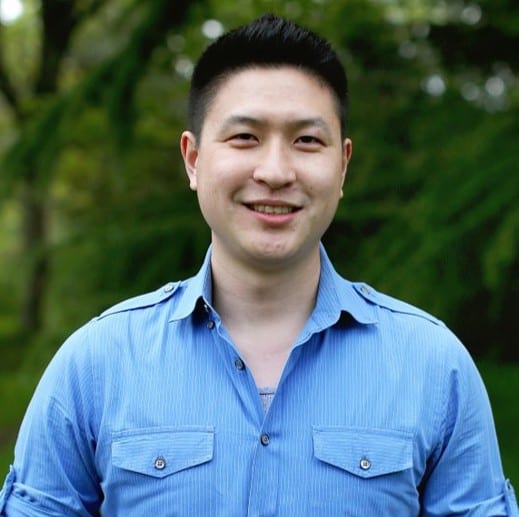 Dave Pan
Chief Operating Officer, MyIntent
I can't say enough good things about Jack and Top Growth Marketing. 
We had no Facebook ad expertise when we first started buying ads and Jack quickly and efficiently came in and set up all of the proper pixels, custom audiences, look-a-likes, etc to quickly get us scaling.
More importantly, Jack acts as a mentor and coach for your business, providing best practices across your entire marketing strategy (email, average order value, conversion rate optimization, Pinterest, etc).
He also has a great, 'go-getter' personality that is easy to get along with. We truly appreciate everything Jack did for us!

Meet your dedicated team before you sign on the dotted line.